Meme queen Belle Delphine continues her successful merchandising ventures with the introduction of "GamerGirl Condoms," which sold out within hours of going on sale. One of the world's most famous "GamerGirls," Delphine unique marketing technique, led to the sale of "GamerGirl Bath Water" last year.
Delphine, whose real name is Mary-Belle Kirschner, announced the condoms in a new YouTube video entitled "eat my ass" a shameless catering to the millennial crowd. According to Delphine, the condoms are pink, lubed and latex.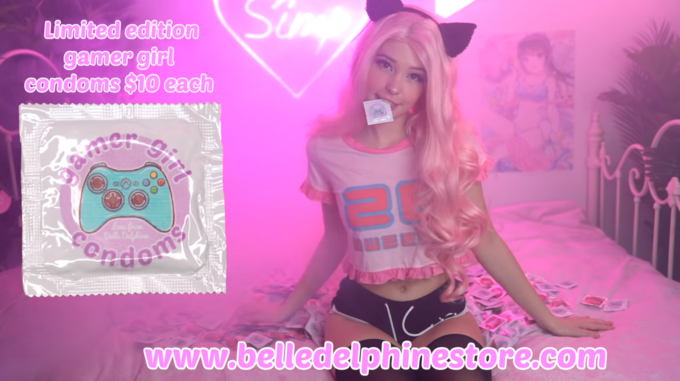 Her new song and video for "eat my ass" garnered more than 740,000 views within 24 hours.
Unfortunately for "gamer boys" looking to "rise up," the condoms sold out within hours. But according to Delphine, if you're watching her video on the condoms, "you'll never need them anyway."
If you're watching this video you'll never need them anyway …https://t.co/GKb4F7ibyT pic.twitter.com/HZpf8oAPiZ

— Belle Delphine (@bunnydelphine) July 14, 2020
In July 2019, Delphine sold "GamerGirl Bath Water" to fans for $30. The stunt went viral, with fans posting videos, jokes and memes about the Bath Water.
One of the most popular models at the intersection of video games and cosplay, Delphine took nearly a year-long hiatus last year, before returning to the internet on June 16th, 2020. Her return video, "I'M BACK," received more than 24 million views in less than one month.

Source – Know Your Meme News