About
Troubled Blood is the fifth novel in the Cormoran Strike crime series by J.K. Rowling under the pseudonym Robert Galbraith. Many criticized the book for its plot, which centered on a cross-dressing serial killer, and Rowling for the past controversial statement she made about transgender people. Some saw the publication of the book as part of a pattern of transphobic behavior from Rowling, posting criticisms of Rowling online and causing the hashtag "RIPJKRowling" to trend.
History
On January 25th, 2020, Rowling tweeted a photograph of a stack of printed paper and the caption, "Finished #Galbraith5 #Strike." The post received more than 60,000 likes and 5,000 retweets in less than one year (shown below). Months later, on August 15th, Rowling announced on her website that the book would be released on September 15th.

Reception
Allegations of Transphobia
Months later, on September 13th, 2020, The Telegraph published a review of the book. Giving the book a 3/5 score review, the Telegraph noted that the book contained a "sub-plot to make Rowling's critics fume." They wrote, "One wonders what critics of Rowling's stance on trans issues will make of a book whose moral seems to be: never trust a man in a dress."
Critics and fans, once again, accused Rowling of transphobia, referring to her as a TERF. Vanity Fair writes:
No longer satisfied with simply repeatedly expressing her transphobic opinions on Twitter and in 3,600-word screeds on her personal website, J.K. Rowling now appears to be bringing her TERF (trans-exclusionary radical feminist) logic to a bookshelf near you via her new fictional novel, Troubled Blood."
On Twitter, the hashtag #RIPJKRowling trended. The hashtag prompted some to believe that Rowling died, but the tweets in the hashtag were in reference to her relationship to her fans (examples below).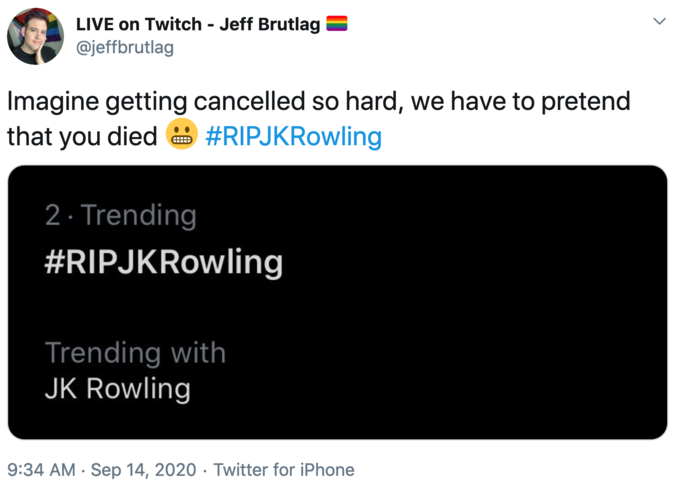 Several media outlets covered the controversy, including Vanity Fair, Alternative Press, PinkNews, New York Post, Business Insider and more.
Search Interest
Know Your Meme Store
External References
Source – Know Your Meme News