About
The Fumo Fumo Plush Series, commonly referred to online as fumos and occasionally spelled fumofumo, is a line of plush dolls of characters from the Touhou Project universe, manufactured by the Japanese merchandise company Gift. Fumos are popular on the internet and receive much representation among the Touhou fandom.
History
In 2008, Gift released their first Fumo Fumo in August 2008 with the release of Reimu Hakurei and Marisa Kirisame (shown below). The Fumo Fumo name is derived from the Japanese onomatopoeia "mufo mofu" meant to express the feeling of softness, fumos being designed to be soft to the touch. Fumos are likewise identifiable by their chibi style. That year, the plush dolls sold out throughout Japan.

The Fumo collection expanded and gained in popularity, offering variants for several of the Touhou characters and also offering larger variants of its most popular characters called
Deka Fumos
.
Fumos are known to be difficult to acquire outside of Japan because Gift does not ship internationally. As such, customers outside of Japan are required to resort to a proxy service or to purchase from retailers at varying and usually much larger rates.
Online Presence
In addition to being a popular toy in Japan, fumos are popular online, most notably on Twitter and 4chan's /jp/ Otaku Culture board, where fumo owners enjoy sharing pictures and montages of theirs.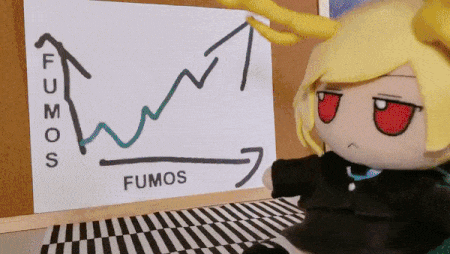 Fumo Fumo fan Twitter and
YouTube
accounts, like Yumemey, feature short sketch comedy videos with the dolls. Yumemey launched its Twitter account in 2015 and its YouTube account on December 18th, 2018. The following day, Yumeme published their first video, which received more than 20,000 views in less than two years (shown below, left).
On September 9th, 2019, the account posted its most popular video as of August 2020. The post received more than 89,000 views (shown below, right).

Other viral videos also featured animations of the dolls. For example, on February 12th, 2020, PerlDrop shared the video "Fumo Funk." The video received more than 36,000 views in less than one year (shown below, left).
Additionally, buying guides, reviews and unboxing videos also grew in popularity on YouTube. One of the most popular, YouTuber Vampirepineapple's "Touhou FumoFumo Purchase Guide," which they published on February 14th, 2019, received more than 14,000 views in less than two years (example below, right.

Fan Art
Search Interest
Know Your Meme Store
External References
Source – Know Your Meme News