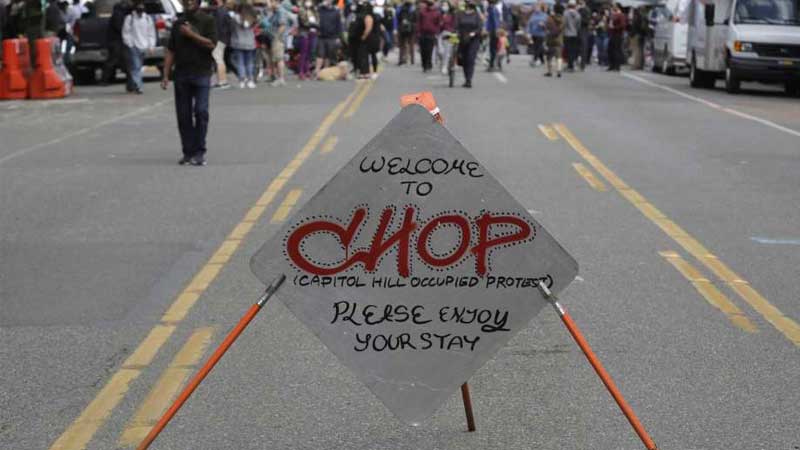 After 20 days of protest in the Capitol Hill neighborhood of Seattle, police begin to disperse the Capitol Hill Organized Protest. The shutdown of the protest zone comes just days after a fatal shooting that left one dead and another in critical condition.
Police intervention began early this morning, following the release of an executive order by Seattle Mayor Jenny Durkan. The order cites public safety and health risks exasperated by the CHOP.
Due to ongoing violence and public safety issues in the East Precinct/Cal Anderson Park area. Mayor Jenny Durkan has issued an executive order to vacate the area. Seattle police will be in the area this morning enforcing the Mayor's order. https://t.co/SpVRYIB8eg pic.twitter.com/JAt2AvUTCr

— Seattle Police Dept. (@SeattlePD) July 1, 2020
Early Monday morning, two teens driving a white Jeep Cherokee tore through Cal Anderson Park, recklessly speeding in circles on the soccer field where CHOP members were camping. Unidentified shooters fired at the car one victim of the shooting, a 14-year-old, is in critical condition, the other, a 16-year-old, died later that night. In total, six people have been shot at CHOP since its founding.
In an interview with National Public Radio member station KUOW, CHOP medic Marty Jackson claimed that CHOP security fired on the car. The shooters have not been officially identified.
Police say that they found the car "disturbed" and "riddled with bullets." Activists in the area took one of the victims from the car and drove them to the hospital in a private vehicle. Seattle Fire Department medics transported the other victim.
City officials have attempted to return the area to normal over the last week, sending work crews to clean up the barricades that makeup CHOP's borders. Protesters, however, successfully thwarted those attempts.
#BREAKING: Seattle Police just showed here at #CHOP with SDOT.

Multiple pieces of heavy machinery now moving barricades. And crews are working fast. @KIRO7Seattle pic.twitter.com/9w0LjXL36v

— Deedee Sun (@DeedeeKIRO7) June 30, 2020
Protesters declared the Seattle Autonomous Zone on June 8th, during the first two weeks of the 2020 George Floyd Protests, calling for racial justice and an end to police brutality. The six-block region included the area just outside the East Precinct of the Seattle Police Department.

Source – Know Your Meme News