About
Frodo Lives! is a catchphrase used by fans of the Lord of the Rings book series in the 1960s. First appearing as graffiti, the phrase also appeared on buttons, bumper stickers, t-shirts and more. Many associate the phrase with the hippie counterculture of the 1960s and 70s. It is often credited as one of the oldest pre-internet memes (similar to Kilroy Was Here).
Origin
The origin of the phrase is unknown. However, it first appeared following the publication of the volume of the Lord of the Rings, The Return of the King, on October 20th, 1955.
According to Cracked, the phrase grew in usage during the 1960s and 70, following the paperback publication of the book series. They wrote:
The hero of Tolkien's The Lord of the Rings, Frodo Baggins, became something of an inexplicable cult hero during the 60s and 70s. Relatively obscure in their time, Tolkien's epic novels experienced a sudden explosion of popularity after the paperback re-release.
At the time, the phrase appeared on buttons, graffiti and bumper stickers (examples below).

Spread
In 1967, the psychedelic rock group The Hobbits released the single for the song "Frodo Lives" (shown below, left). The band later released the song under the name The Magic Room (shown below, right).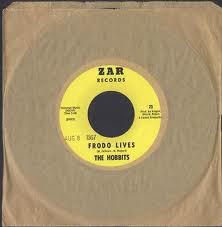 Some fans contest that the phrase is a reference to the book's ending, in which Frodo takes the last ship to the Gray Havens with the elves, and in essences live on. On January 31st, 2002, Tolkein Forum user Cian quoted the book's author J.R.R Tolkien:
As for Frodo or other mortals, they could only dwell in Aman for a limited time — whether brief or long. The Valar had neither the power nor the right to confer 'immortality' upon them. Their sojourn was a 'purgatory', but one of peace and healing and they would eventually pass away (die at their own desire and of free will) to destinations of which the Elves knew nothing.
On November 19th, 2014, the BBC published the article "Hobbits and hippies: Tolkien and the counterculture," which notes the series' impact on the hippie counterculture. They write:
during the 1960s, a time of accelerating social change driven in part by 42 million Baby Boomers coming of age, Tolkien's The Hobbit and the Lord of the Rings became required reading for the nascent counterculture, devoured simultaneously by students, artists, writers, rock bands and other agents of cultural change. The slogans 'Frodo Lives' and 'Gandalf for President' festooned subway stations worldwide as graffiti.
Search Interest
Know Your Meme Store
External References
Source – Know Your Meme News