About
Halo Infinite is an upcoming mainline video game in the Halo franchise of video games. The game was announced in July of 2018 and is scheduled for release in the latter half of 2020 for Windows, the Xbox One and the Xbox Series X. Plotwise, the game follows 2015's Halo 5: Guardians.
History
Development on Halo Infinite began following the release of Halo 5: Guardians. The first trailer for the game released June 10th, 2018, at E3 (shown below, left). A second trailer was shown one year later at the following E3 (shown below, right),

On July 23rd, 2020, the development team released an 8-minute gameplay trailer (shown below).
Online Presence
The 2020 gameplay trailer disappointed some fans who felt it was a letdown from a graphical standpoint. Keemstar tweeted he felt the graphics "sucked ass," gaining over 210 retweets and 3,700 likes (shown below, left). User @bombosmedallion joked about the game by comparing it to stills from World of Warcraft (shown below, right), gaining over 900 retweets and 4,300 likes.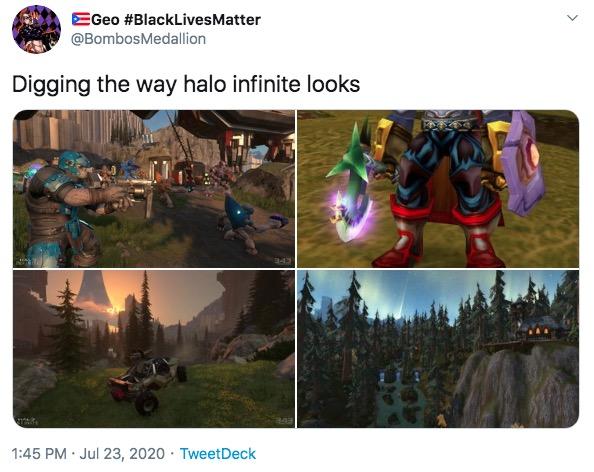 On Reddit, user boudewjin posted a comparison still between footage shown in the 2018 trailer and the 2020 gameplay demo, gaining over 640 points (shown below, left). The user also joked that a still from the demo could also conceivably be from
Minecraft
, gaining over 740 points (shown below, right).
Search Interest
Know Your Meme Store
External references
Source – Know Your Meme News