Today in things we never thought we'd have to write: The 2011 film Captain America: The First Avenger did not predict the coronavirus. There's nothing to let "sink in," so take off your tinfoil hat and turn off Disney+.
Why would anyone believe that a blockbuster film about short Brooklynite who drinks some super serum has the power of clairvoyance? Who is he, Dr. Strange?
Nah, a very high-quality meme said so.
The meme, which comes from the very legit Facebook group "Files from the Conspiratorium, features the final scene from The First Avenger in which Steve Rogers aka Captain America, awakens in 2011 Times Square, New York City. The meme focuses on two advertisements behind Steve: One for Corona beer and another that resembles the illustrated depiction of the coronavirus.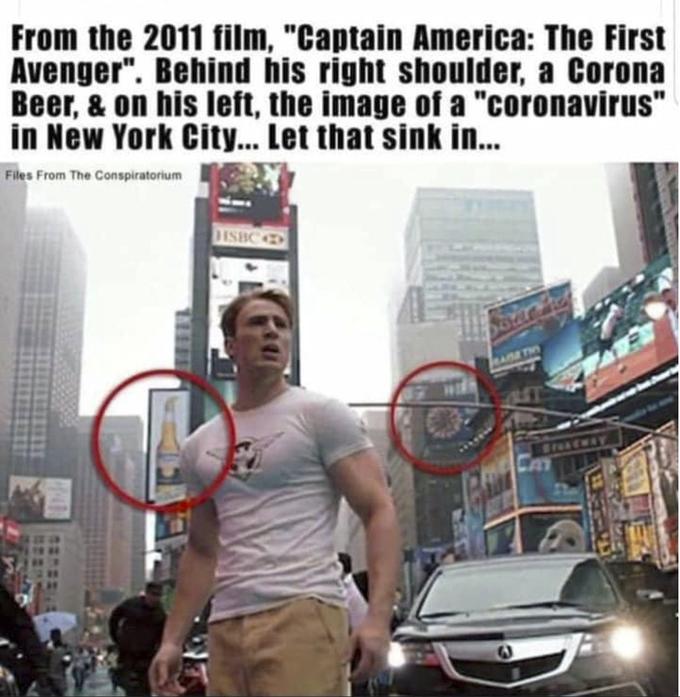 As noted by
Snopes
, that's not the coronavirus illustration at all. It's an advertisement for Barilla pasta. Let that sink in.
Snopes also notes that the scene was filmed on location in Times Square, and therefore, these advertisements showed up in other
photographs
from
the era
.
The fact-checking website also reached out to Barilla for comment. They wrote:
This is definitely not the type of question we normally find ourselves in the position of being asked … Any potential reference to the current global pandemic we find ourselves in would be purely coincidental. If the Marvel Universe is able to predict the future, I sure hope I don't come across any evil demigods who are intent on decimating the planet and the universe.
So there you have it. Once again, not every 2020 tragedy can be predicted by something you saw on Disney+ (sorry, Simpsons fans). If that were the case, we should be very concerned about what horrible futures 2011's Mars Needs Moms holds. Luckily, no one's watching that one.

Source – Know Your Meme News