About
You Fucking Donkey refers to a reaction image of Gordon Ramsay on Hell's Kitchen saying the phrase. Oftentimes, it is paired with an image of Ramsay acting kindly to a child, demonstrating the disparity of someone's kind behavior towards one thing and violent behavior towards another thing.
Origin
The line comes from Season 2, Episode 4 of Hell's Kitchen, where Ramsay says it to a chef who creates an intense fire in a pan (shown below).

On November 3rd, 2013,
Tumblr
user mione-mizuno posted a side-by-side comparison of Ramsay saying the line and Ramsay consoling a child. The post has gained over 220,000 notes (still shown below).
Spread
On April 17th, 2019, the still was posted to Reddit by u/Saintrph to r/dankmemes in a joke about Shrek] gaining over 38,000 points (shown below, left). On October 2nd, another variation about Shrek was posted to r/memes by u/JojoJoker102, gaining over 49,400 points (shown below, right).

The meme spread throughout various communities on Reddit, where most of the edits center on family relations, such as parent-child relations (examples shown below).
Various Examples
Template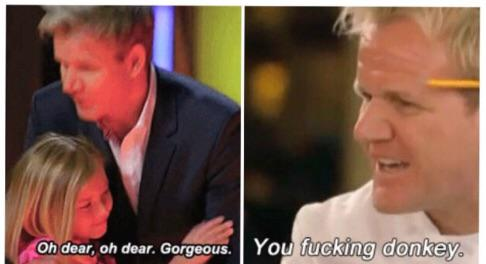 Search Interest
Know Your Meme Store
External References
Source – Know Your Meme News