About
I'm Going To Create An Environment That Is So Toxic is a quote by Sue Sylvester from the 2010s musical television show Glee. The line became a reaction image in 2020 primarily on Twitter, where users paired the line with various captions and used text blackout to change the image itself.
Origin
The quote comes from episode seven of Glee, "Throwdown," which aired October 14th, 2009 (shown below).

On June 27th, 2020, Twitter user @elmotumbokon posted the image on
Twitter
as an anti-meme (shown below).
Spread
Though @elmotumbokon's post only gained 95 likes, it inspired others to take the format and create variations with it. For example, Twitter user @ianamurray posted an example making fun of Ryan Murphy, the series' creator, on June 28th, gaining over 100 retweets and 800 likes (shown below, left). On July 1st, @thegaychingy posted an example poking fun at the creation of Fleetwood Mac's Rumors (shown below, right).


Many variations used text blackout to alter the image. For example, user @rorhor posted an example making Sue say "I am going to create," gaining over 24,000 retweets and 131,000 likes (shown below, left). User @sabinameschke posted an example where Sue says "I am going," gaining over 6,600 retweets and 59,000 likes (shown below, right). Jokes were covered by Junkee and The Tab.
Various Examples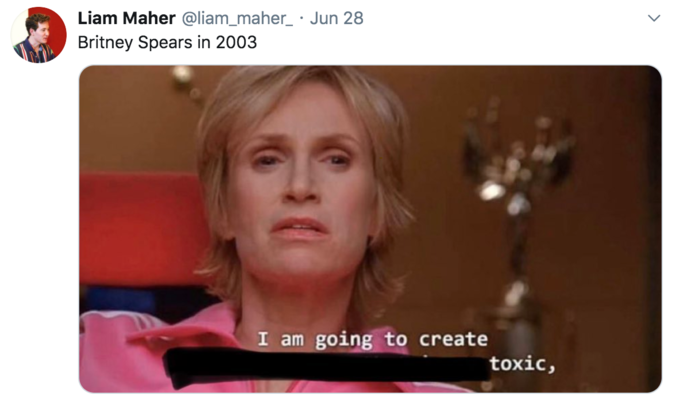 Search Interest
Unavailable
External References
Source – Know Your Meme News