About
Giuseppe Stromboli is a character name from a tweet that features a mock direct message conversation with Harry Potter author J.K. Rowling about changing the name of the titular character in the books to "Giueseppe Stromboli."
Origin
On July 9th, 2020, Twitter user @MNateShyamalan tweeted a series of mock images that include changes that they would make to the Harry Potter series. The first post image, "jk rolwing's going through some stuff, so she put me in charge of making dumb changes to the harry potter universe. effective immediately: – dementors are latina – harmonie's now himmoine – hagrid has fibromyalgia – wands are called 'bang noodles' – Hogwarts has a billiards table." They followed the tweet with a mock direct message conversation with Rowling, where @MNateShyamalan says that he will change Harry Potter's name to "Giuseppe Stromboli." Within one week, the tweet received more than 397,000 likes and 88,000 retweets (shown below).


Text Product Font Technology Electronic device" class=" kym-image image-auto-link" id="photo_1872584″ title="Giuseppe Stromboli tweet">
memes. For example, Twitter user @whatthedickity tweeted, "Giuseppe Stromboli and the Sauce Carbonara's." The tweet received more than 300 likes (shown below, left).
Edits of Harry Potter book covers that feature the name also appeared on Tumblr. On July 11th, Tumblr user mvessickart posted a parody that reads "Giuseppe Stromboli and the Goblet of Vino. The post received more than 37,000 notes in less than one week (shown below, center).
The following day, Tumblr user pink-strawberries posted a variation of the Insdecurity / Anxiety Text Message meme that features the character asking about his briefcase. The post received more than 450 notes (shown below, right).


Various Examples
Text Font" class=" kym-image image-auto-link" id="photo_1872598″ title="hello @jk_rowling I fixed your books #giuseppestromboli">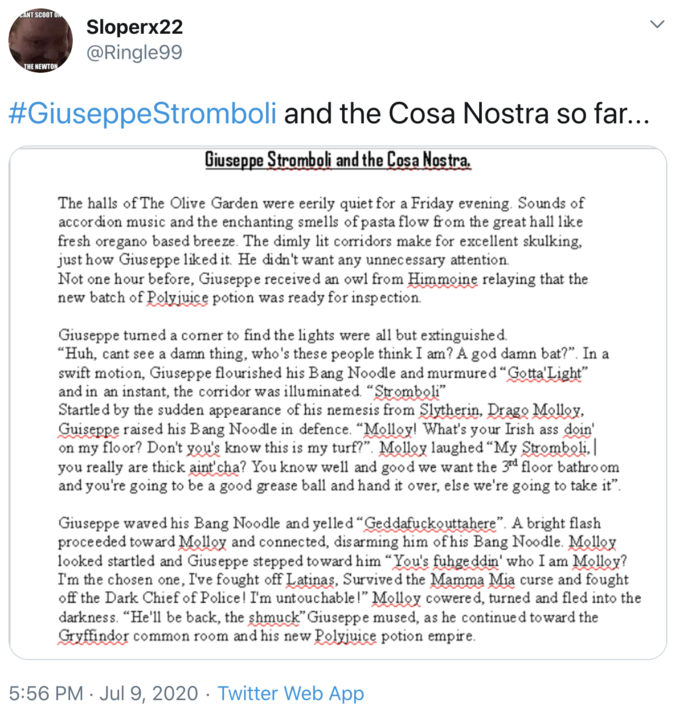 Text Font" class=" kym-image image-auto-link" id="photo_1872597″ title="#GiuseppeStromboli and the Cosa Nostra so far…">
Search Interest
Know Your Meme Store
External References
Source – Know Your Meme News