About
The 1918 Spanish Flu was an influenza pandemic caused by the H1N1 virus in 1918. The two-year-long pandemic involved four waves of death and illness, killing millions of people around the world. In late 2019, many began spreading memes about the Spanish Flu due to its similarity to the coronavirus pandemic.
Origin
On March 4th, 1918, the pandemic was marked as having begun with a confirmed case of the illness in Kansas, United States. Over the next two years, between 17 and 50 million people died from the Spanish Flu around the world. On May 3rd, 2009, the earliest known meme relating to the Spanish Flu was uploaded to KnowYourMeme by CaptainBlubber (shown below).

Spread
On December 21st, 2019, Redditor Mauser-C96- posted a Piemation meme regarding the Spanish Flu to r/memeeconomy (shown below, left). On January 29th, 2020, Redditor Tapitos1404 uploaded a meme tp r/memes regarding successors suggesting that after Spanish Flu, the coronavirus was next in line (shown below, right). The post garnered over 37,400 points (95% upvoted) in seven months.

On March 30th, Redditor JMacFlint uploaded a meme r/memes about a man who survived both the Spanish Flu and the coronavirus (shown below). The image accumulated over 60,900 points (97% upvoted) in five months. The Smithsonian Mag published an article on meme spread during the Spanish Flu.
Various Examples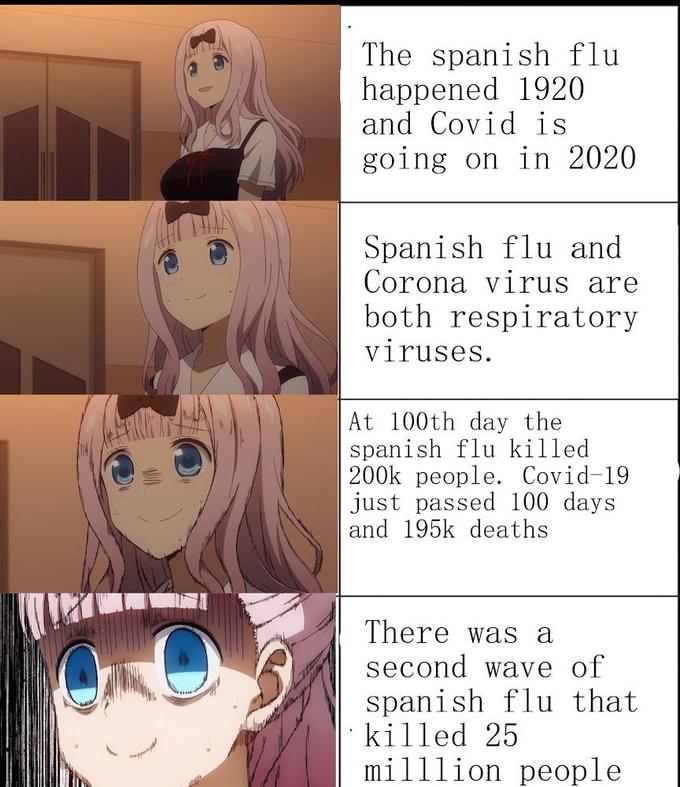 Search Interest
Know Your Meme Store
External References
Source – Know Your Meme News