Earlier today at around 3 p.m. Eastern time, the Twitter accounts of several high-profile individuals, cryptocurrency companies and other brands were taken over by suspected bitcoin scammers. This far-reaching hack was an attempt to get unsuspecting people to transfer bitcoins to an address linked within the tweets of compromised accounts.

From
Verified Twitter Accounts
such as
Barack Obama
and
Joe Biden
to
Elon Musk
and
Bill Gates,
a similar message was tweeted repeatedly as users scrambled to delete them. The text for these stated that the individual's account was "giving back to the community" and promised that if someone sent $1,000 to the address, each one would be returned with $2,000, ending with "Only doing this for 30 minutes." Similar tweets were also seen on the accounts of major brands, including
Apple
and
Uber,
as well as cryptocurrency companies like Coinbase.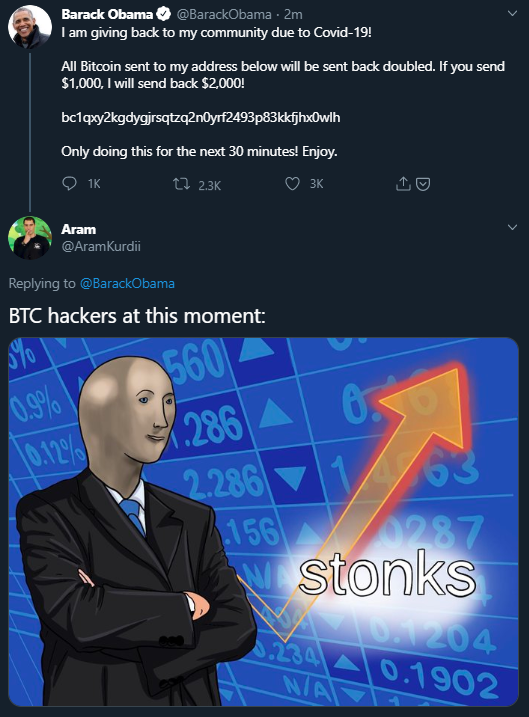 So far, it appears that many individuals ultimately believed that the tweets were authentic, despite many Twitter users calling them out as fake even before the company took notice. A closer look at the
bitcoin address
used in the scam reveals that around 350 transactions have already taken place in just three hours since the first recorded transaction occurred at 3:03 p.m. Eastern time. In that timeframe, the scammers received over 12.8 BTC, totaling nearly $118,000.
Since emerging today, the exact method of the hacks is still unknown, but Twitter stated it was looking into the issue and attempting to fix it. An official tweet from the company's Twitter account said, "We are aware of a security incident impacting accounts on Twitter. We are investigating and taking steps to fix it. We will update everyone shortly." Some of the accounts that were hacked also later stated they had multi-factor authentication turned on.

Despite this, numerous people speculated on potential ways the scammers gained access to the accounts, such as user
ImNotTheWolf,
who posted a theory about hackers gaining access to the "Twitter Panel," which would require hacking a Twitter admin or employee. With that kind of access, they theorized that the emails and passwords of any hacked account could be changed without their knowledge. Twitter user
UnderTheBreach
also shared a similar theory in their tweet, which included "likely the panel of the compromised Twitter employee." Another user,
Ankit Panda,
posted screenshots revealing a bitcoin wallet thought to be associated with "the neo-Nazi Andrew Auernheimer," or
Weev,
who allegedly sent a
small
amount in BTC to the address.
UPDATE:

It seems like the hackers got access to "Twitter Panel", which is basically hacking one of the Twitter admins/employees. This gives direct admin access to accounts and allows individuals to chance e-mail & password.

(Just a theory)jack TwitterSupport @Twitter pic.twitter.com/xdJH9gt1KU

— wolf (@ImNotTheWolf) July 15, 2020
Even after many of these tweets were posted and deleted just minutes later, some of the accounts were hacked a second time and posted similar messages. According to cybersecurity experts, this is likely Twitter's largest attack on the platform to date. Rachel Tobac, the CEO of cybersecurity firm SocialProof Security, told
NBC News,
"I'm surprised Twitter hasn't gone completely dark to prevent misinformation campaigns and political upheaval. We are lucky the attackers are going after bitcoin (money motivated) and not motivated by chaos and destruction."
While this hack is perhaps the most prominent on Twitter to date, it's not the first case of social media accounts being hacked to post messages against their owner's will. In August 2019, the Chuckling Squad Hacks similarly spammed messages on the accounts of popular YouTubers and actors, such as James Charles and Jack Dorsey, that were performed via AT&T sim card replacements.

Alright, a running list of who's getting hacked on Twitter rn
– Gemini & crypto things i don't understand
– Cash app
– Elon Musk
– Bill Gates pic.twitter.com/M0MUFdbr5t

— Paige Leskin (@paigeleskin) July 15, 2020
It's estimated that hundreds of accounts were hacked so far, with several users compiling lists of the compromised accounts in various tweets. This attack has also had an effect on Twitter's value, as shares of the social media platform fell roughly 3 percent following the widespread news coverage.
As Twitter scrambled to remedy the attack, several users and other noteworthy accounts also began posting parodies of the message, attempting to make light of the situation. In one such instance, Wendys tweeted out a similar phrase, but swapped the address to "Dave444spicy245nuggets10piece."

After roughly three and a half hours of the attack hitting the platform, Twitter briefly locked all verified accounts in an attempt to shut down the hacks of such users. Know Your Meme's own Twitter account confirmed this and was unable to post later in the afternoon as the story unfolded and received widespread coverage from media outlets across the web. The accounts have since been restored.
all of unverified twitter pic.twitter.com/sFJltaj6C7

— Annie Palmer (@annierpalmer) July 15, 2020
Source – Know Your Meme News