About
I Came Looking For Copper And I Found Gold is an image macro of Christopher Columbus staring and three ships on the ocean featuring the top text "I came looking for copper" and the bottom text "and I found gold." The text was initially added to the 2010 illustration in Spanish in 2017 and became a popular reaction image for English-speakers soon after on Reddit and Twitter.
Origin
On February 11th, 2010, the illustration of Christopher Columbus was used in an article called "Columbus Sets Off For Pakistan, Discovers Mumbai, Asked To Apologize" on the news parody site Faking News (shown below).

On March 29th, 2017, the earliest known iteration of the image including text was published in a collection of memes titled "Pokémon GO: crueles memes se burlan de los que no atraparon un Magikarp shiny" on the site Peru (shown below, left). On May 24th, 2017, HentaiHaven user YoDaddy posted the first English version in the comment section of one video (shown below, right).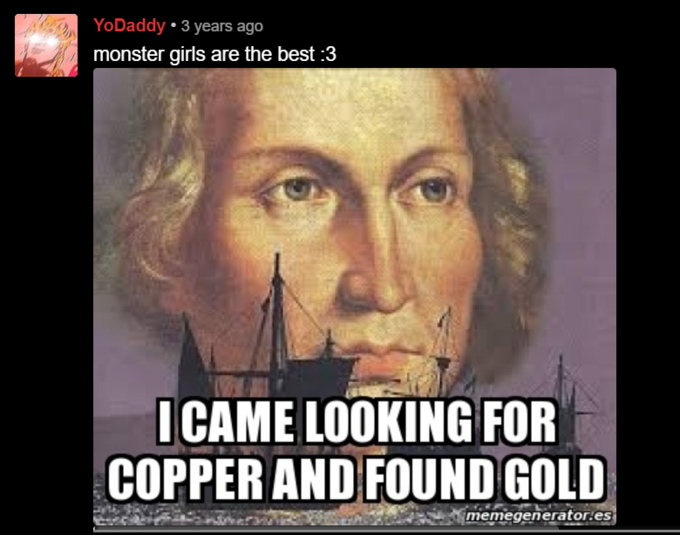 Spread
On August 8th, 2018, Redditor dabausman posted the image with the caption, "when you google a homework question and you find the answers to the entire worksheet" to r/memeeconomy. The post received over 1,400 points (95% upvoted) in two years (shown below, left). On October 18th, 2019, Facebook user I am Rocker/Metalhead posted the meme with a Metalica related caption which gained over 270 reacts (shown below, right).

On March 9th, 2020,
Twitter
user @theMemesBot posted screenshots of a scene from the
anime
Gamers
and added the reaction image (shown below). The tweet accumulated over 160 likes in three months.
Various Examples